ProDen PlaqueOff
Dog Powder
Dental care is unfortunately one of the most overlooked health issues pet owners are concerned with.
If your dog suffers from bad breath, it is certainly a sign of oral health problems.
As in humans, plaque bacteria constantly form in the mouth of all cats and dogs. It can accumulate on teeth, gums and the tongue, leading to bad breath, gum disease (bleeding), dental plaque and tartar.
If nothing is done, this can cause unbearable pain and, worst of all, premature tooth loss. Once plaque has calcified into tartar it can no longer be brushed off with a toothbrush. In many cases it has to be removed by a vet, using ultrasound and anaesthetic.
ProDen PlaqueOff® Powder is a pet dental product for dogs and cats, which can help reduce plaque and tartar. A completely natural product, made from specially selected Norwegian Seaweed (D1070), ProDen PlaqueOff® Powder has been found to have specific beneficial effects for oral care, reducing bad breath by up to 63% after 12 weeks and reduces plaque by up to 35% after the first 8 weeks.
ProDen PlaqueOff® Powder comes in a granulated form which is easily added to food every day. The active ingredient is a specially selected alga, Ascophyllum nodosum, harvested along the North Atlantic coast. It is rich in natural iodine and contains important vitamins and minerals.
PlaqueOff Dog Powder doesn't containt
ProDen PlaqueOff® Powder is available in 2 economical sizes:
ProDen PlaqueOff® Powder is a natural, easy and effective way of ensuring good oral and dental hygiene in dogs.
PRODEN PLAQUEOFF® POWDER IS NOW PERMITTED TO CARRY THE VOHC® ACCEPTED SEAL
| | |
| --- | --- |
| Cats & Dogs <10kg | 1 scoop* |
| Dogs 10-25kg | 1-2 scoops* |
| Dogs >25kg | 2-3 scoops* |
* Scoop included in the box.
PRODEN PLAQUEOFF® POWDER SHOULD BE USED ONCE DAILY AND CAN BE ADDED TO WET AND DRY FOOD. SPRINKLE THE PRODUCT ON TOP OF THE FOOD OR MIX IT WITH THE DRY OR WET FOOD ONCE A DAY. HOW LONG IT TAKES BEFORE YOU NOTICE AN EFFECT ON TARTAR AND BAD BREATH MAY VARY FOR EACH INDIVIDUAL. IF THE DESIRED EFFECT IS NOT ACHIEVED AFTER 2 MONTHS YOU CAN INCREASE THE DOSE. AIM TO RETURN TO THE RECOMMENDED DOSE WHEN THE EFFECT HAS BEEN ATTAINED.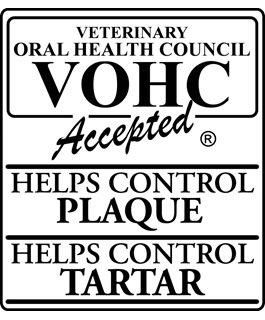 Two clinical studies on dogs performed by Jerzy Gawor, DVM, PhD, DipAVDC/EVDC and his team have shown that ProDen PlaqueOff® Powder significantly reduce the formation of plaque and tartar.